Most days when traveling around town or commuting by bicycle, there are two items that I use to carry the things I need on a daily basis: a bag and (sometimes) a basket.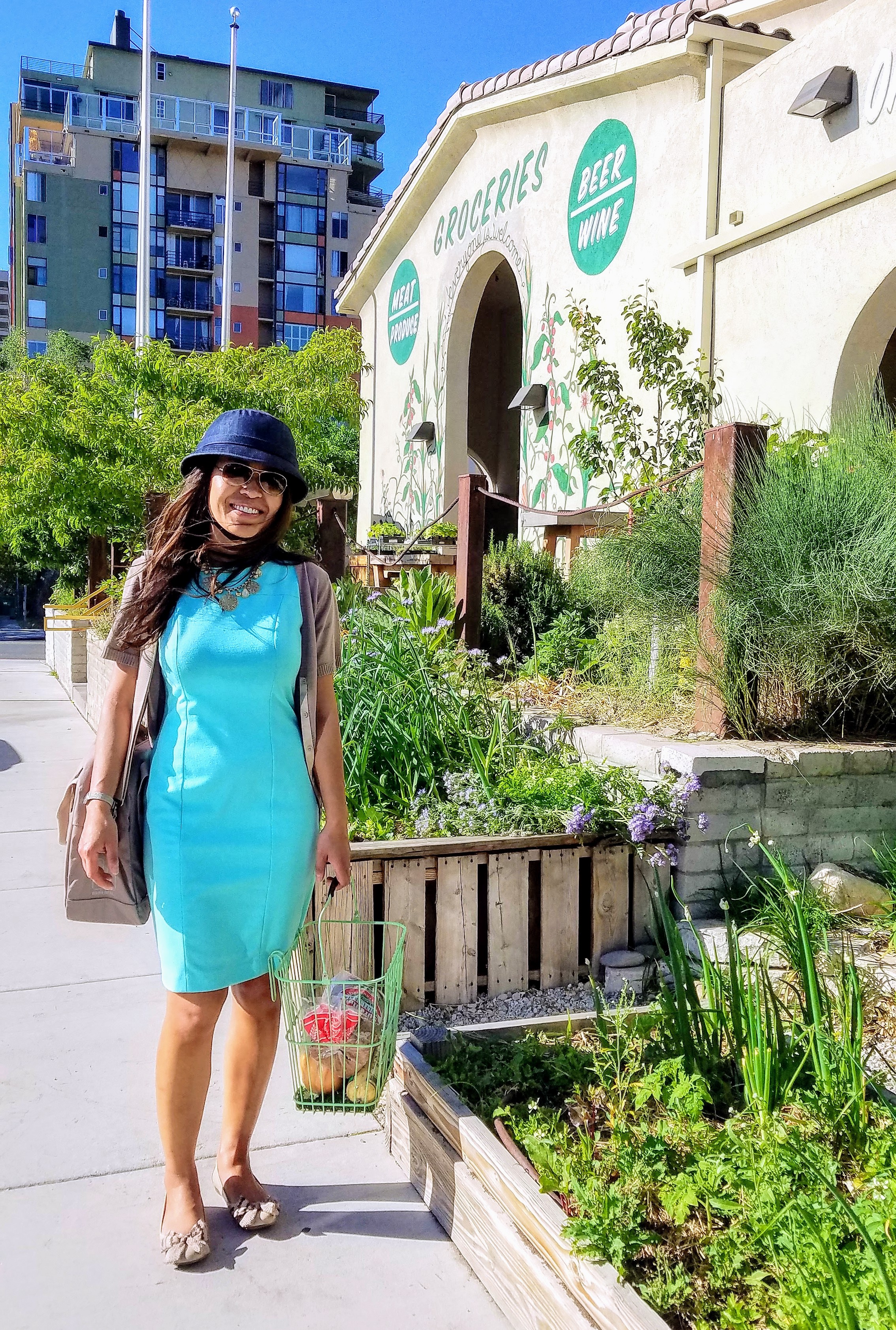 A bag and a basket are usually all I use to carry the things I need each day.
Keep in mind that I stow a flat tire kit to fix punctures in a separate saddlebag that is always attached to my bicycle. See this video for what I carry in my flat tire kit.
1. Carry Your Things by Bag or Pannier
During the weekdays when I need to carry a laptop (and sometimes an external monitor) I carry those items and accessories in a pannier that hooks on to the rear rack of my bicycle--like the Bergen Pannier Bicycle Bag.
When I don't need my laptop, I carry my stuff in a bag like the Po Campo Bike Trunk Bag. It is roomy enough to carry an iPad, a paper planner (yes, I'm old fashioned), my clutch, sunglass case, folding bike lock, gloves, etc. yet it is small enough to carry as a purse when I get off the bike.
2. Carry Your Things by Basket
A basket is so handy to throw things in like my lunch, jacket or cardigan, extra water bottles and stuff that does not fit nicely in a pannier like groceries, flowers, wine bottles, baguettes, eggs, etc. I prefer baskets that hang from the rear rack of my bicycle while others prefer baskets for the handlebar of the bike.

During the week, I don't do large grocery hauls because I like to stop at the market often to pick up fresh-picked produce. You'll be surprised at HOW MUCH you can carry on a bicycle with one or two baskets! Because of the amount of weight I tend to carry in my bike basket(s), I prefer the stability of carrying the load on the rear rack of my bike instead of on the handlebar where it could affect the ability to steer more easily.
 
The advantage of a basket over a bag is that it is open and you can easily throw things in or take stuff out while you are riding (or at a stop) without needing to unzip your bike bag to put away or retrieve things. That said, I would keep anything valuable (wallet, keys, electronics) inside a more secure bag or pannier. I have never had anyone walk up to me while on my bicycle and take things out of my basket--not even the wine, flowers or bread but better to keep those items secure than have them slip through the basket without you knowing.
One more thing I might take if I anticipate carrying larger things that will not fit in a basket or bag is a bungee cord cargo net. Then I can carry extra atop the front or rear rack of my bicycle.
From day to day, a bag and basket are all I need to carry things on my bicycle. What do you like to use to carry your things?